Please Note: This text placed below here is for the express purpose of documentation and indexing.
It is not intended to be used by the viewer.
Viewers should therefore focus on the Flash presentation located at the top of this page.
LAWS/Pro Free Highlights LAWS/Pro Free Edition Introduction Introduction Introduction
Excitement! Welcome, packed with features
The LAWS Pro free edition is a complete calendaring, time, billing and accounting system. It contains all the core functions of our premier LAWS Pro product which has been proven by hundreds of users over the last 30 years. In this quick summary we'll show you some of the key features included in the free edition of LAWS Pro.

Calendar / Time Entry Calendar / Time Entry Calendaring
The LAWS Pro calendaring system consists of feature packed widgets that allow you to customize your calendar page. The calendar page is used not only to schedule your appointments, but also to see reminders of upcoming events, record your time, make client notes, and to enter other client expenses. Because LAWS Pro is a totally integrated system, whatever you enter in the calendar is automatically carried forward to the client billing process.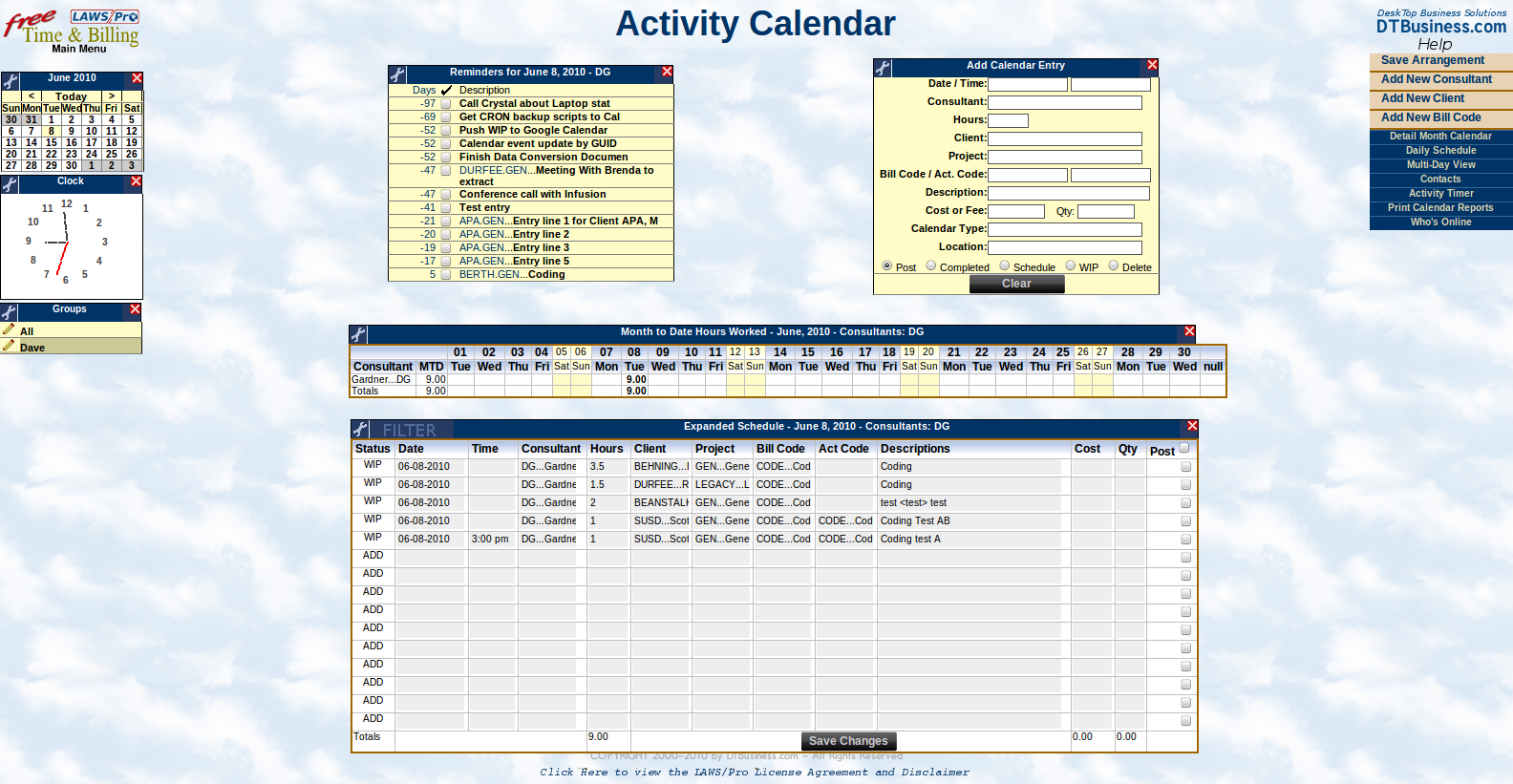 Invoicing Invoicing Invoicing
The LAWS Pro invoicing features allow you to easily process what you've entered on the calendar and create printed invoices for your clients. The format and detail level of the invoices can also be customized through your firms setup options.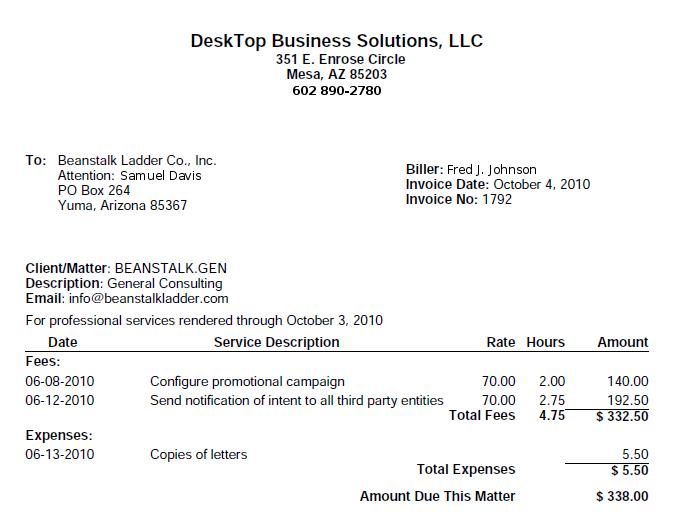 Accounts Receivable Accounts Receivable Accounts Receivable
As you create your invoices, detailed entries are automatically carried over to the LAWS Pro Accounts Receivable functions saving you time and problems by eliminating double entry. Through the Accounts Receivable system you can keep track of all your client account balances and payments.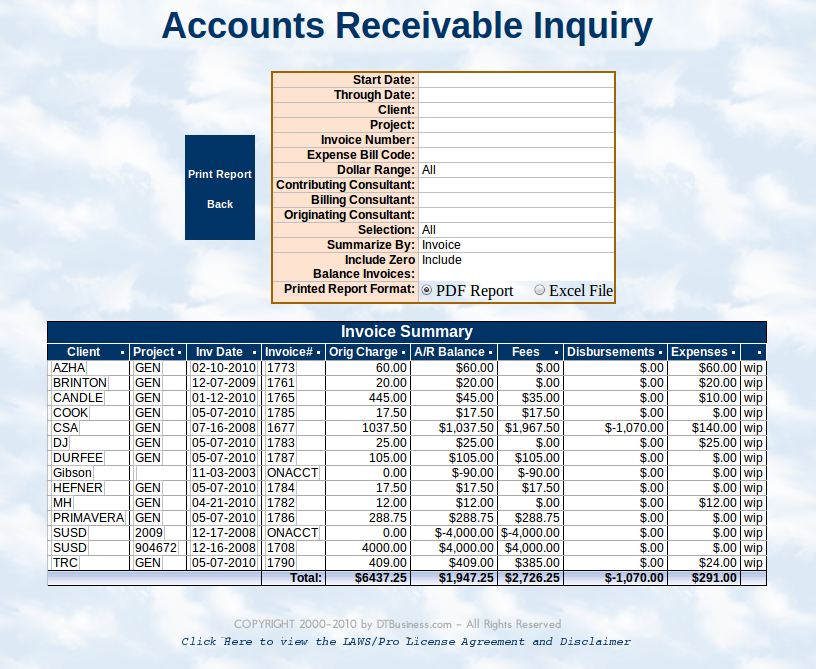 Disbursements Disbursements Disbursements
The LAWS Pro disbursement features allow you to quickly write checks for your own costs. It also allows you to write checks to pay for and charge back client costs. The disbursement features are fully integrated with invoicing and accounts receivable, making it easier than ever to recuperate costs and keep everything accurate and accounted for.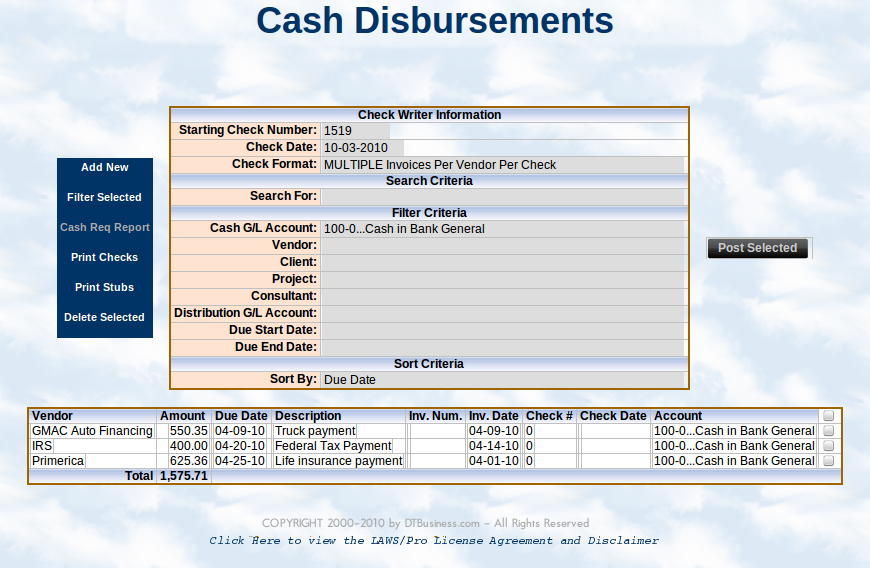 General Ledger General Ledger General Ledger
All of the accounts receivable and disbursement information feed into the General Ledger feature as one seamless action. No more entering values from one program to another, your General Ledger balance sheet is always current and accurate.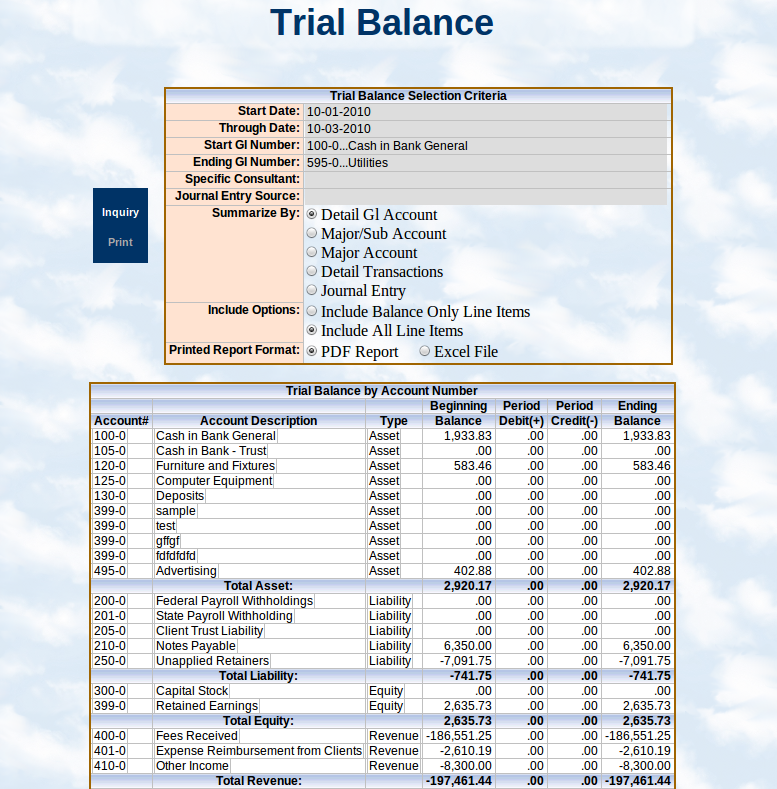 Trust Accounting Trust Accounting Trust Accounting
Also included is a built-in full featured trust accounting system. Now you can track your client trust funds and apply those funds directly against that clients invoices. And its all recorded in detail throughout the built-in LAWS Pro accounting system.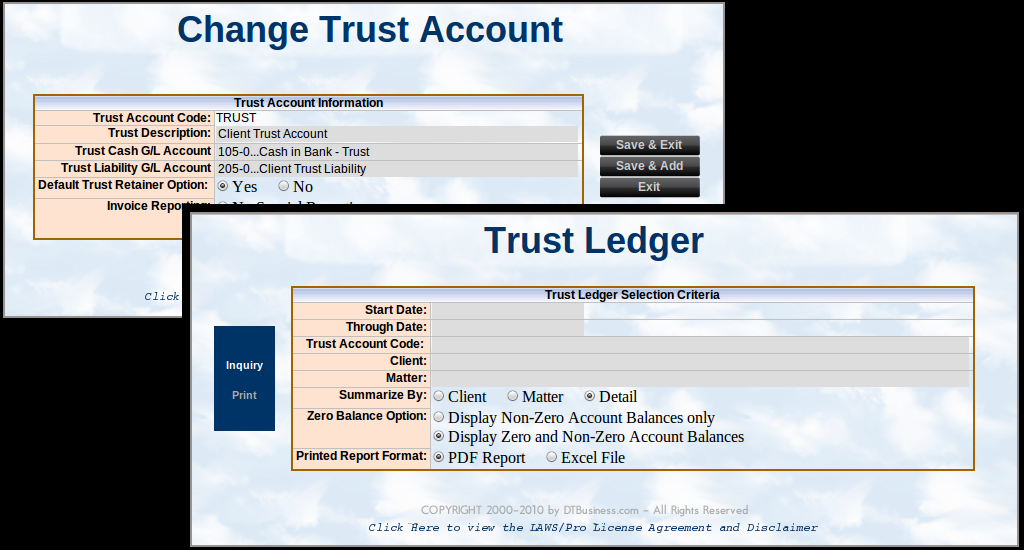 Productivity Reporting Productivity Reporting Productivity Reporting
You also get productivity tools such as our daily activity view. This lets you instantly see key elements such as cash received, time billed, and bank account balances. Quickly see what you need to properly manage your business.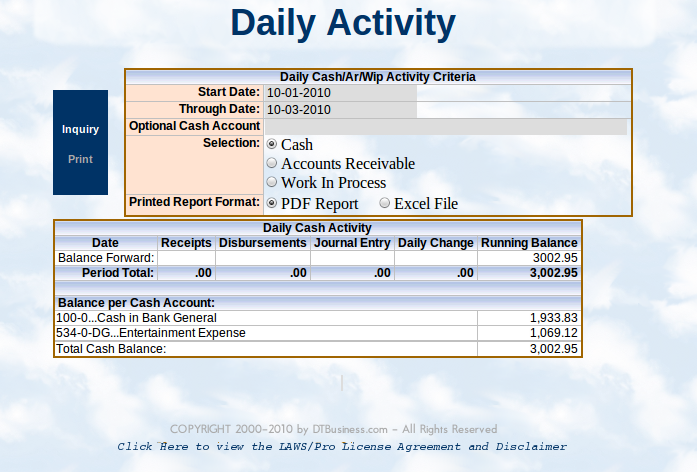 Setup / Customization Setup / Customization Setup
In the LAWS Pro setup you will find tons options which allow you to customize how the system handles your business and how you see information. For example, by default, LAWS Pro uses terms such as Attorney, Client, and Matter. Through the setup pages you can easily change these terms to better fit your business such as company, client and project.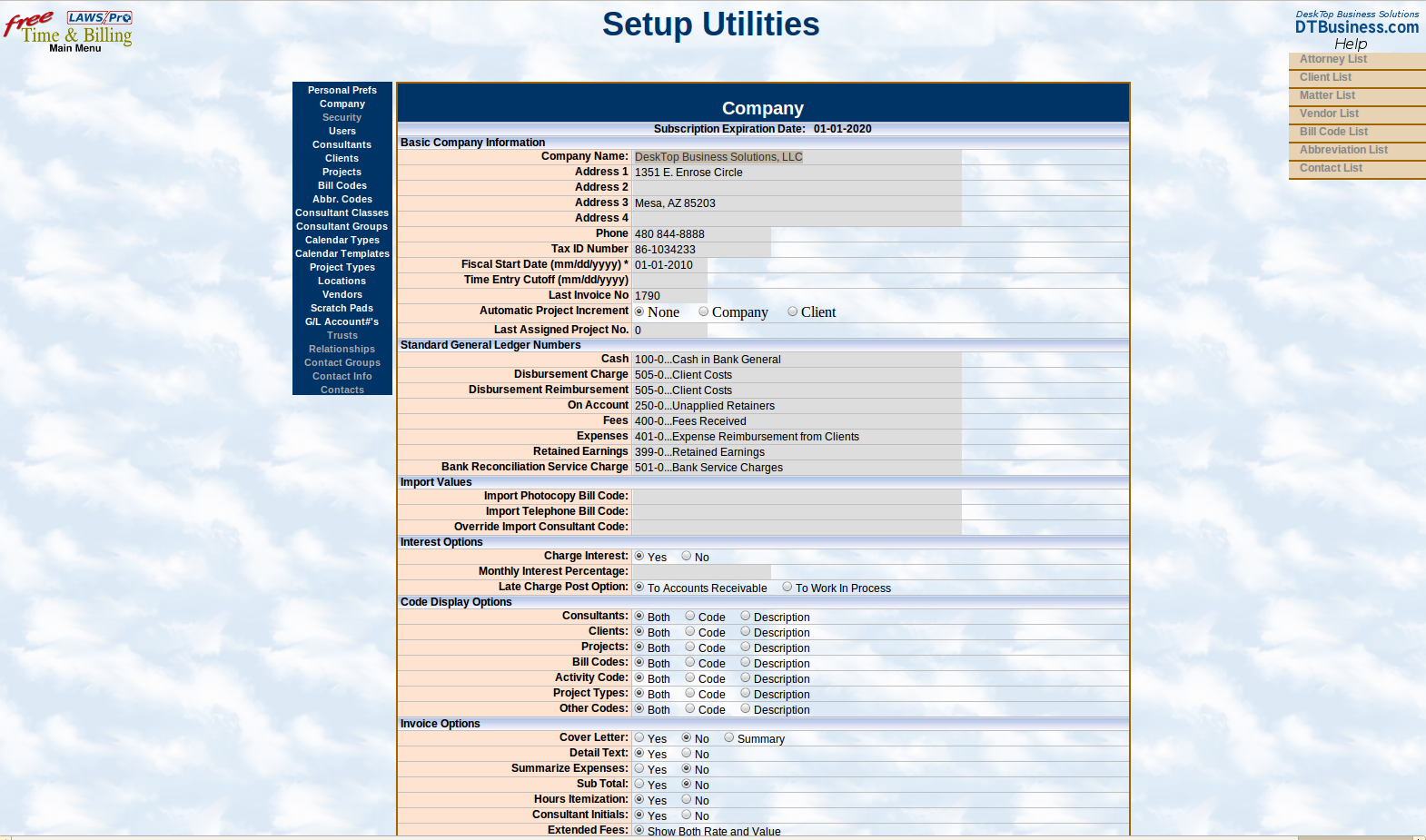 Training Training Training
LAWS Pro also includes comprehensive online training and help features. Through these helpful tutorials and demos you can learn about specific LAWS Pro features, functions and how to perform basic and advanced tasks within LAWS Pro.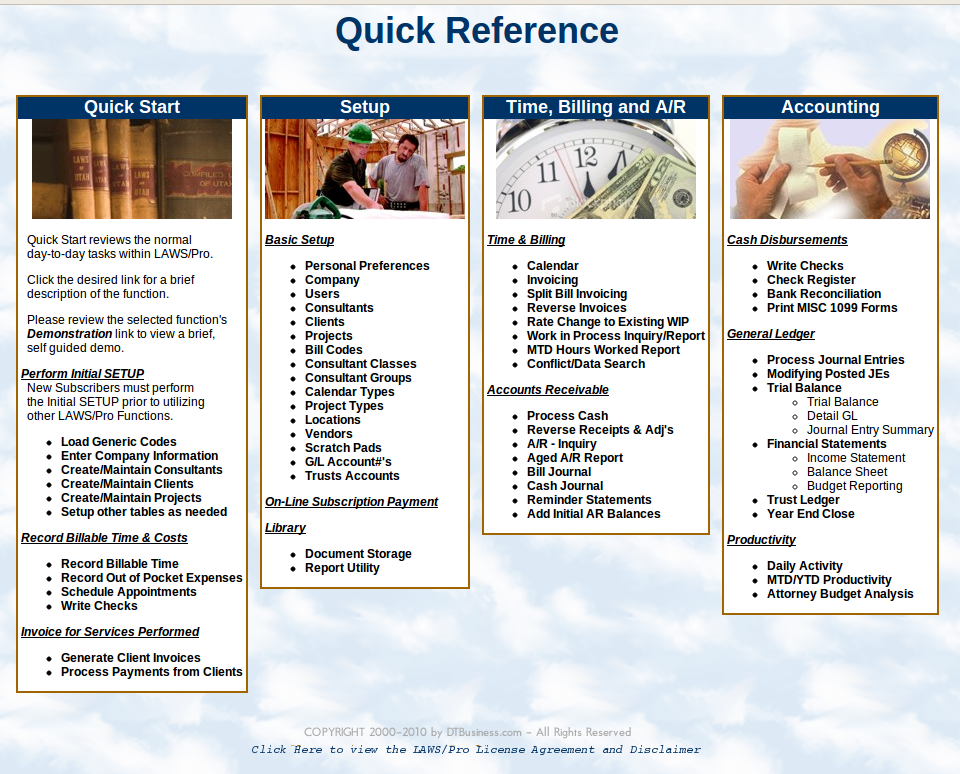 Technical Support Technical Support Technical Support
You also get our world class technical support free through our support form. We want to hear from you and help you to succeed. Every customer has unique needs and situations. Our technical support team is here to help you in using LAWS Pro and to help make it work the way you need it to.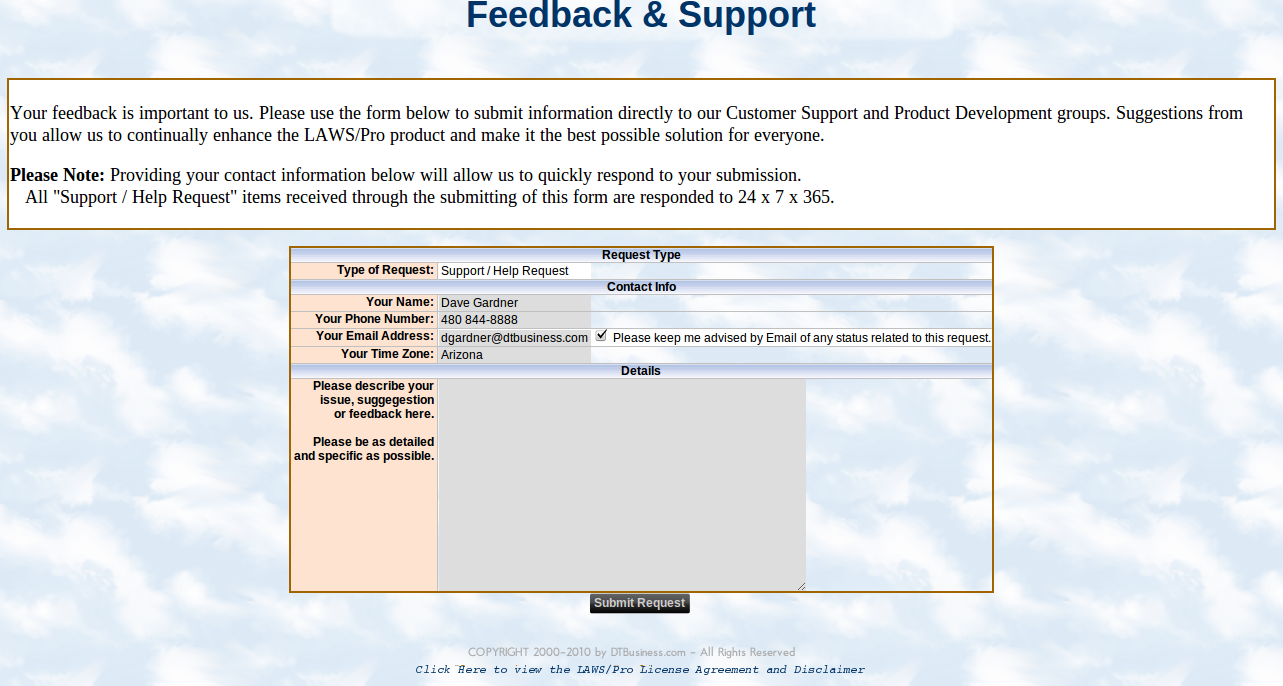 Web-Based Web-Based Web-Based
Web-based, no software, anywhere anytime access, remote office access
As an added bonus, because LAWS Pro is 100 percent web-based, you also get anytime, anywhere access. LAWS Pro requires no software to be installed on your computer. LAWS Pro can be used on any standard web browser on any type of computer including windows, apple mac and others. You can also use it as easily from home as you can from the office or even to tie together multiple offices or locations.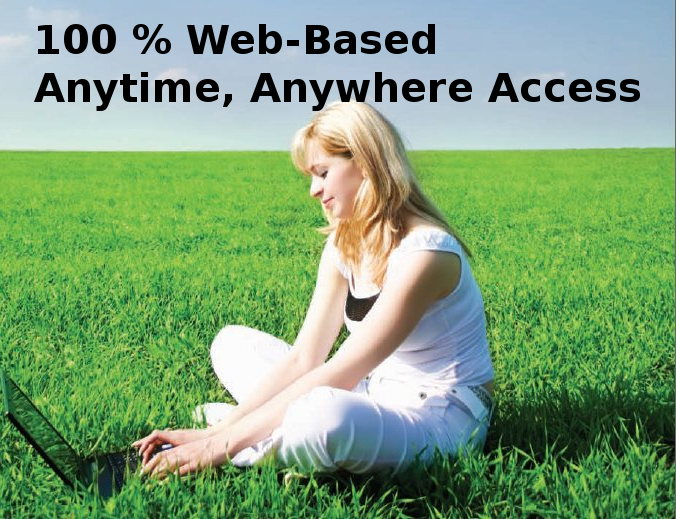 Conclusion Conclusion Conclusion
So that's a quick view of some of the features you get with the LAWS Pro free edition. This has just been an overview as there are many more features included that we don't have time to explain here. And yes, it's all available to you free of charge with no limits and no strings attached. Should you need it, we also offer additional pay services to help you convert your data, receive more in-depth training and telephone based technical support. Our hope is that you will see the benefits of our fully integrated LAWS Pro application and that as you grow, you will continue with us by subscribing to the full LAWS Pro product. But for now, D T Business welcomes you and hopes that you'll enjoy our free edition of LAWS Pro.