Please Note: This text placed below here is for the express purpose of documentation and indexing.
It is not intended to be used by the viewer.
Viewers should therefore focus on the Flash presentation located at the top of this page.
Certified Mail Certified eMail What is Certified EMail What It Is What it is
Did you ever want to send an e mail to somebody and know that they really received and red it? LAWS/Pro provides a feature to do that, its called Certified Mail. Certified mail allows you to send critical email, and receive immediate confirmations when a recipient opens and reads it. It can be used to make a timely follow-up call, or to make a note in the clients file. All this is done automatically for you and without the knowledge of the recipient. Certified mail is a great way to send and track your important messages.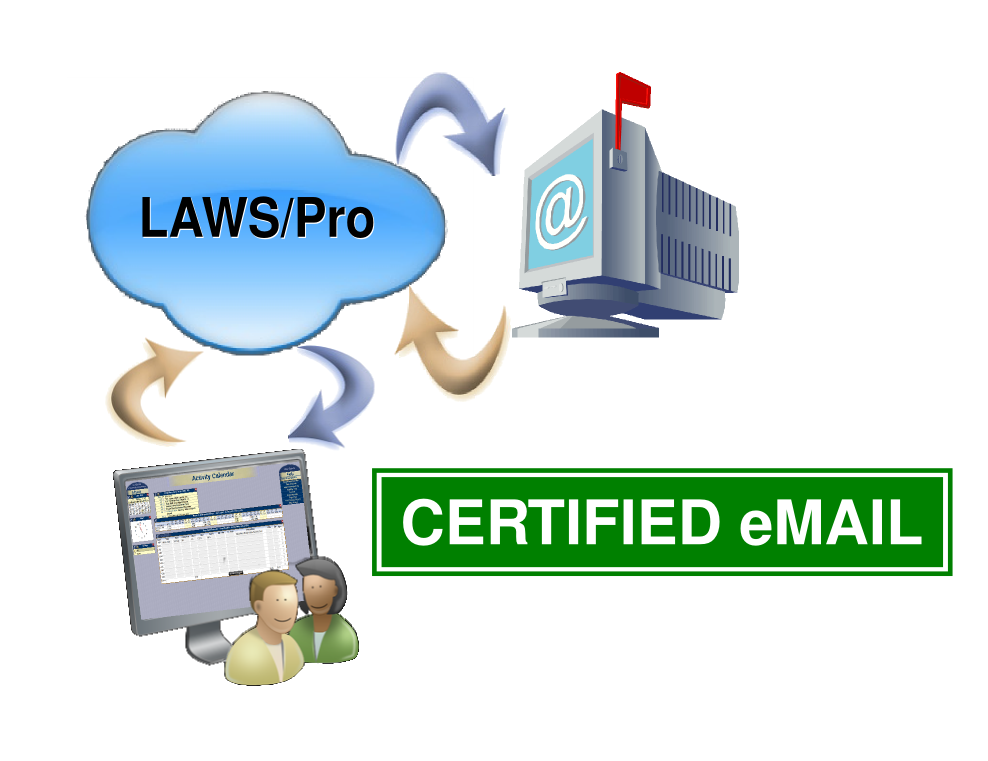 Attachments Attachments Links vs Attachments
Certified mail relies on the user clicking on a link to track messages. You may be used to attaching a file to a message. Links are very similar, however, instead of attaching a file directly to a message, a file is placed on the Internet, and a link to that file is pasted into the email. When the user clicks on the link then they receive, or are directed to your file.
How certified email works
The LAWS/Pro certified email process acts as a go-between. You place the file you want the recipient to view on the Internet, and then tell the LAWS/Pro certified email process where it is located. LAWS/Pro then provides you with a link, or URL, to place in your email. When the recipient clicks on the link provided, LAWS/Pro will record the click action, and then seamlessly pass them on to the true link, or file that you uploaded.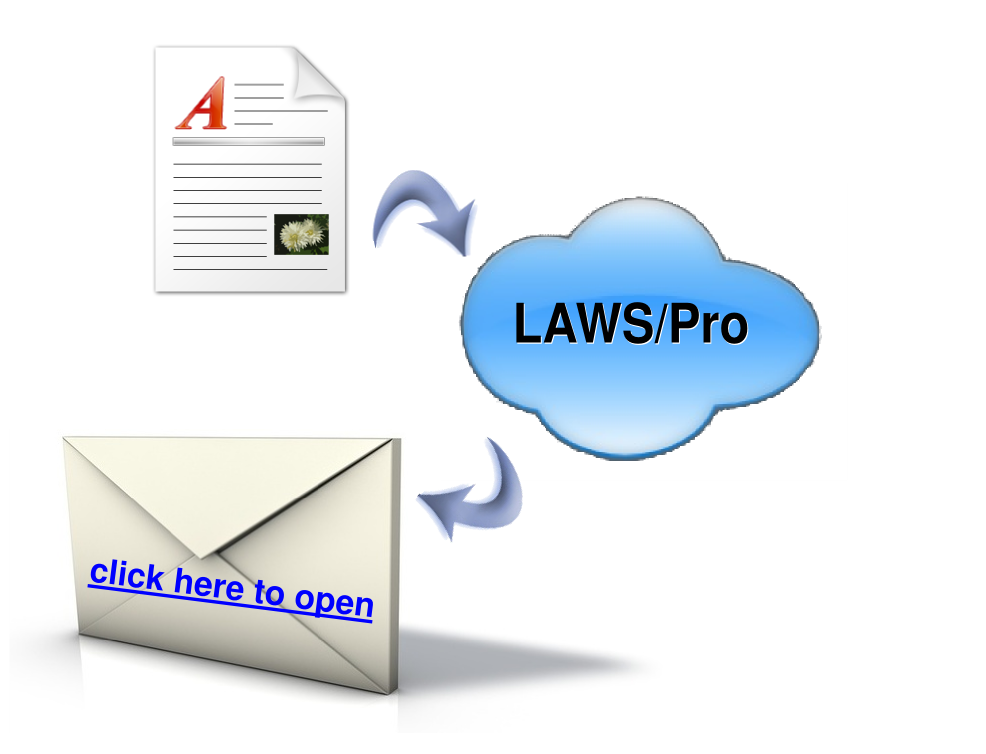 Uploading files to the repository
The first step in creating a certified email, is to place the file you want to send, on the Internet. This can be done by placing the file into the LAWS/Pro document repository. Once the file is placed in the repository, you will need to record the full pathname for that file. For example: /johnsmithpc /clients /jones /note of intent period dock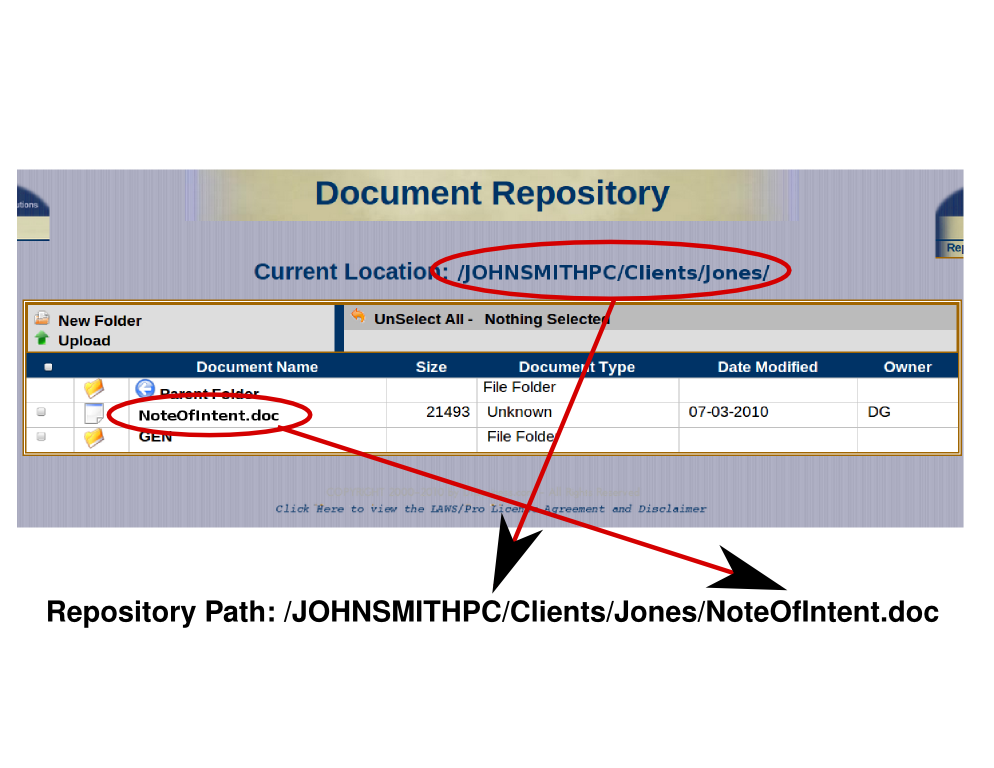 Google Docs
You can also upload your file to another web service, such as Google Docs. After uploading it there, you will need to share your file, and obtain the share address, or URL for it.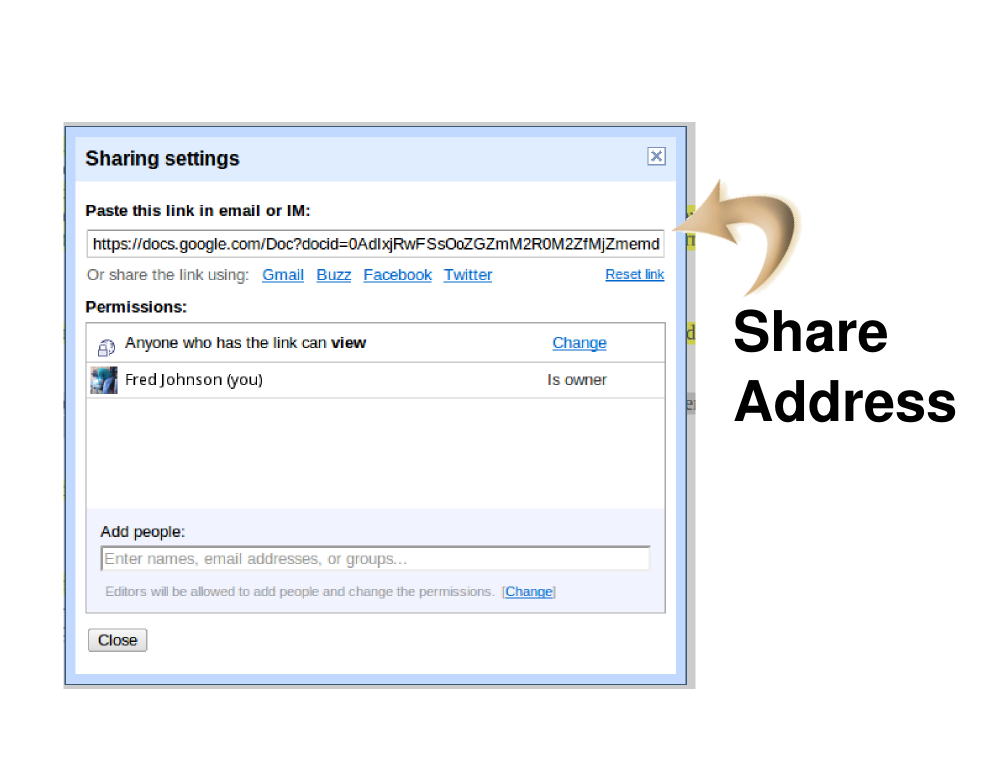 Creating a URL Creating a URL Getting to Certified Mail
Once your file is uploaded, and you have a repository path or URL for it, log into LAWS/Pro, and from the menu, select Library, and then Certified Mail. Once you are on the certified mail page, click on the Add New button.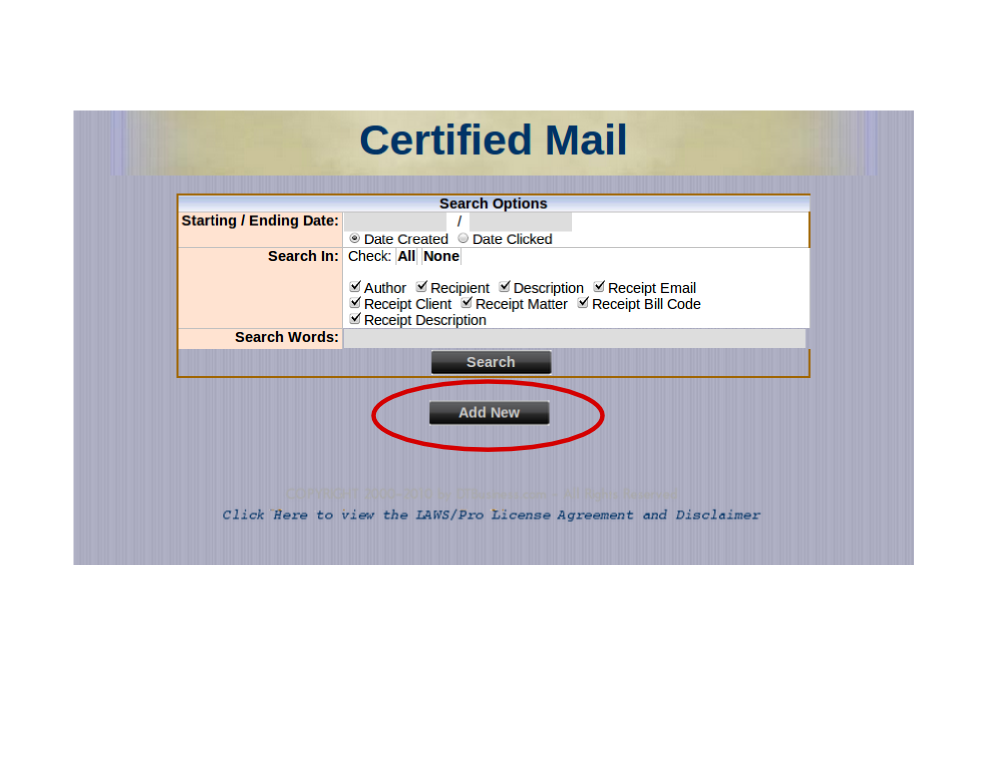 Creating the URL Part 1
Enter the recipients email address, or a name by which you will refer to this certified mail entry. This is for reference, and will not be used to send emails. The Author and Date Created fields will be automatically filled in for you, when this entry is saved. Next place any description that you would like, in the description field. This is optional and is provided as a way for you to make notes regarding this delivery.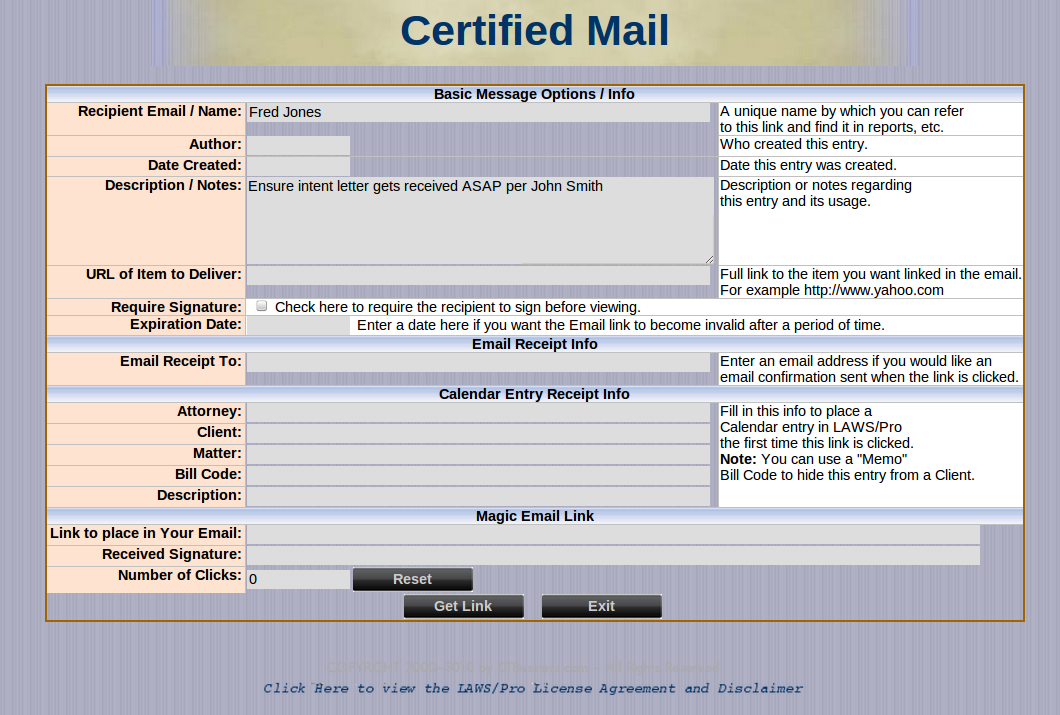 Creating the URL Part 2
Next, enter the URL, of the file you wish to deliver. This must be a full Internet URL, starting with http colon / / , or it can be a path to the file, in the LAWS/Pro repository, which would start with a slash.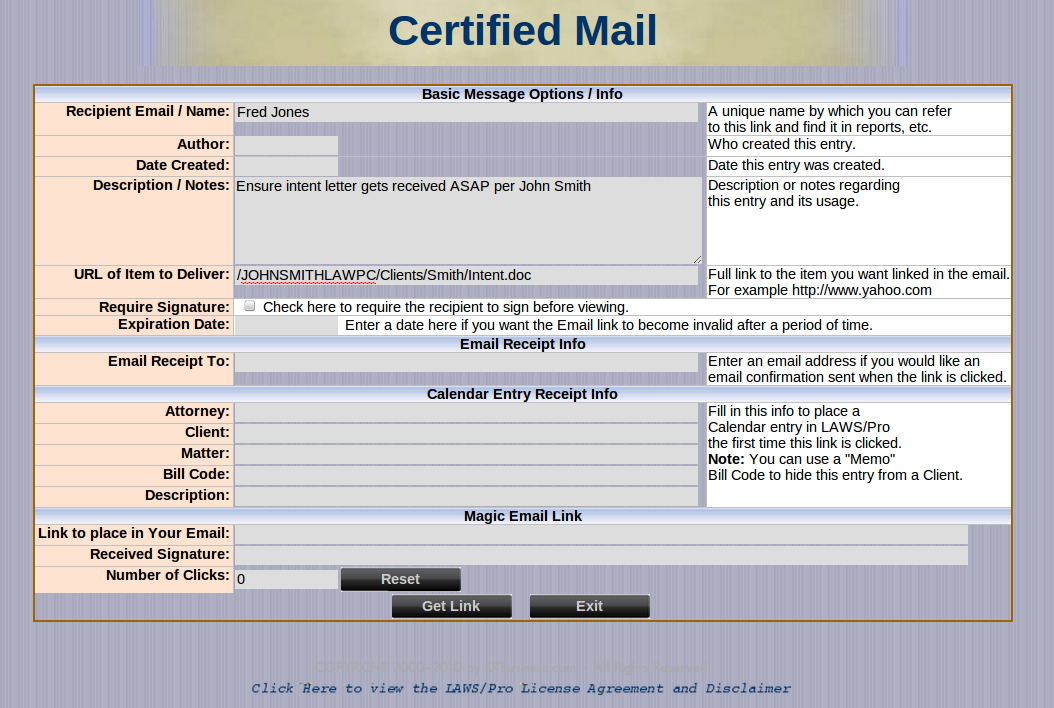 Creating the URL Part 3
Next, you can check the require signature box if you would like the recipient to sign for this file. If you check this box, then the user is prompted to type their name in a box, prior to receiving the file. The name entered is recorded, and shown to you in the certified mail status. The Expiration Date field is available so you can expire this file offering after a period of time. If for example, you wanted to make this file available only for the next 5 days, you could enter a specific expiration date or simply type plus five in the expiration date field.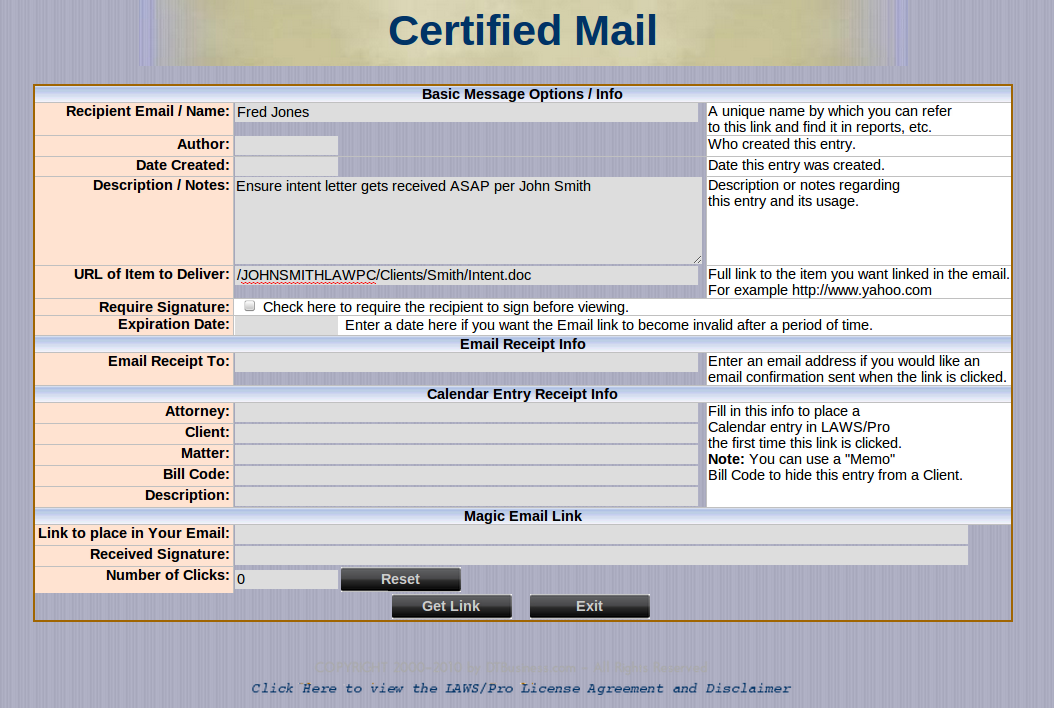 Creating the URL Part 4
If you would like to receive an eMail when the user clicks on the link, then place your email address here. Most cellular phones provide a specific email address by which text messages can be sent. By entering your specific cell phone text message email address, you can receive a text message when the recipient clicks the link. If you call the recipient immediately after you receive the text message, then you will most likely catch them while they are looking at the file. This email receipt will only be sent out the first time they click on the link. All subsequent clicks are recorded but do not result in an email.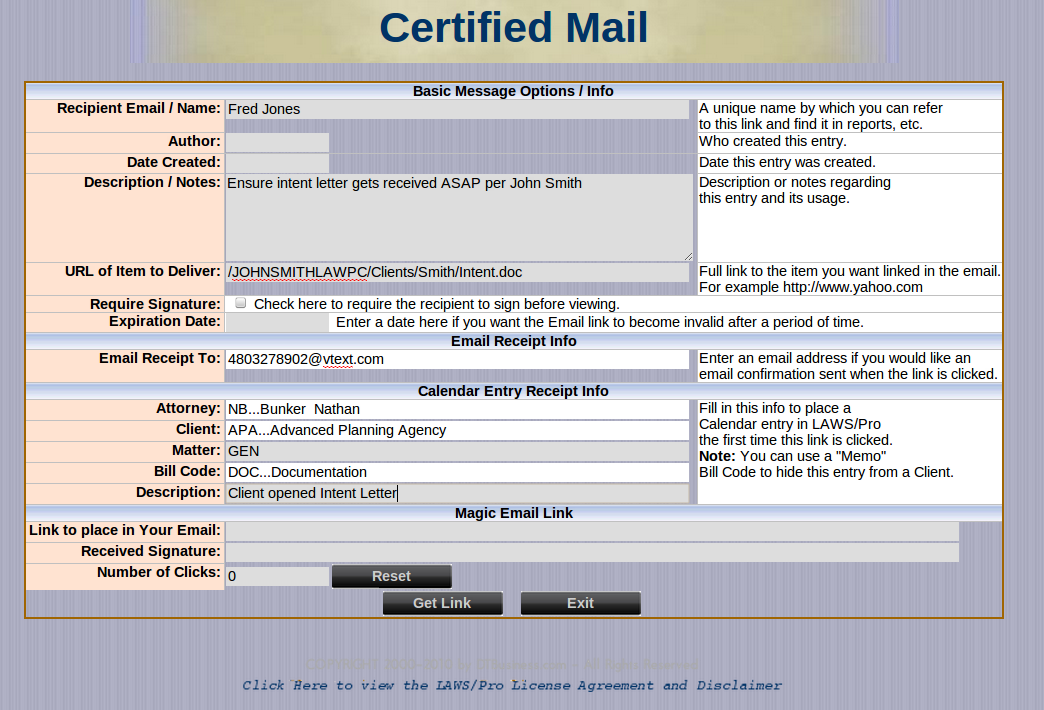 Creating the URL Part 5
The next five fields can be filled in if you would like a calendar entry created in LAWS/Pro, when the recipient clicks the link. This is a handy way to make a note in a clients file indicating that they received a file and opened it. If you create a Memo type Bill Code, and use it here, then the entry will not appear on any client invoices but will be kept on file as a note.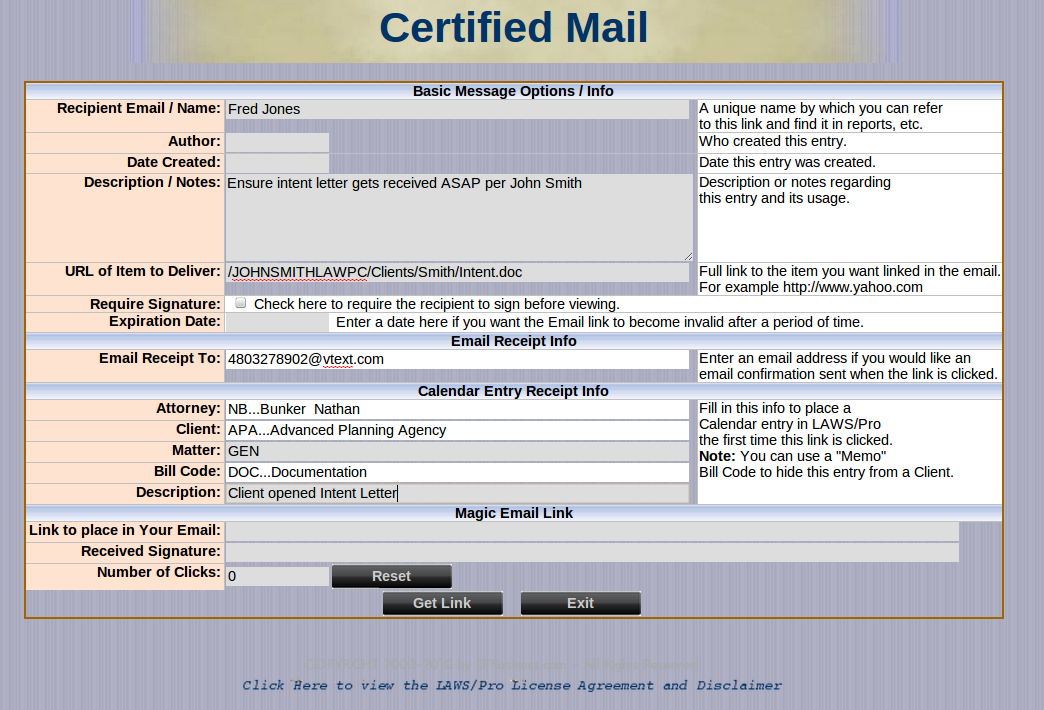 Creating the URL Part 6
Once you have filled in the information, press the Get Link button. A URL link will be created for this entry and will be shown to you in the, "Link to place in your email" field. You can then copy this link, and place it in the email you are sending out.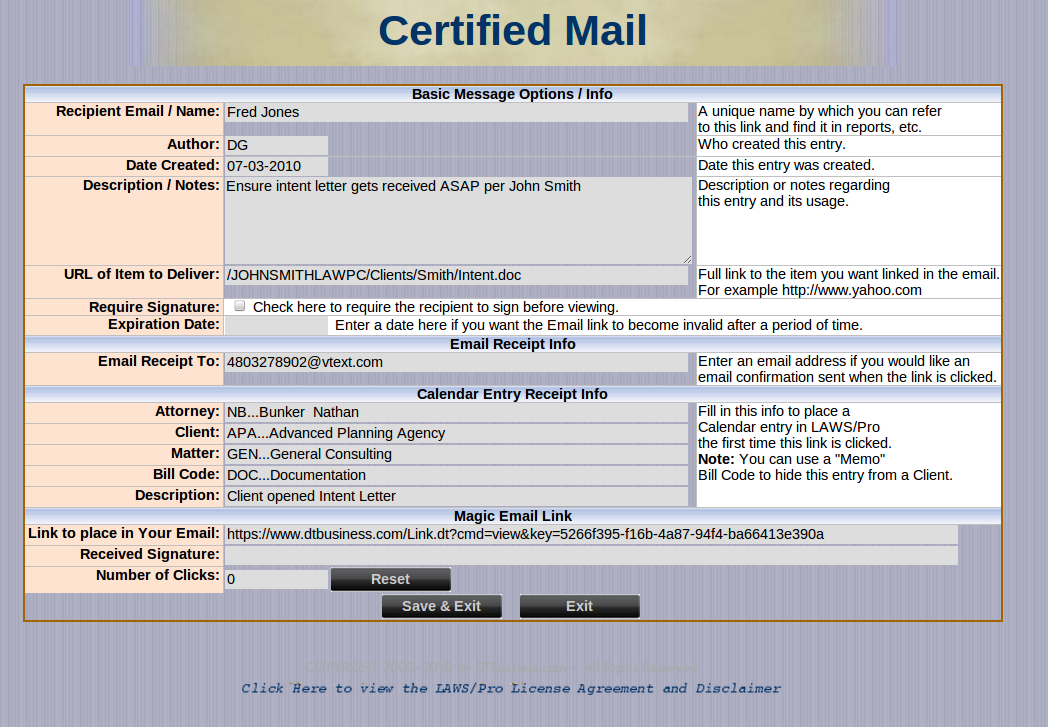 Creating an Email Creating an Email Email Creation
Once you have the certified email link, you are ready to create and send your message. Here is a sample message sent to bob jones. The certified link is pasted into the message as shown. Once bob receives this message, and clicks on the link, he will receive the file you sent and all of the actions you specified in the certified mail entry will be performed.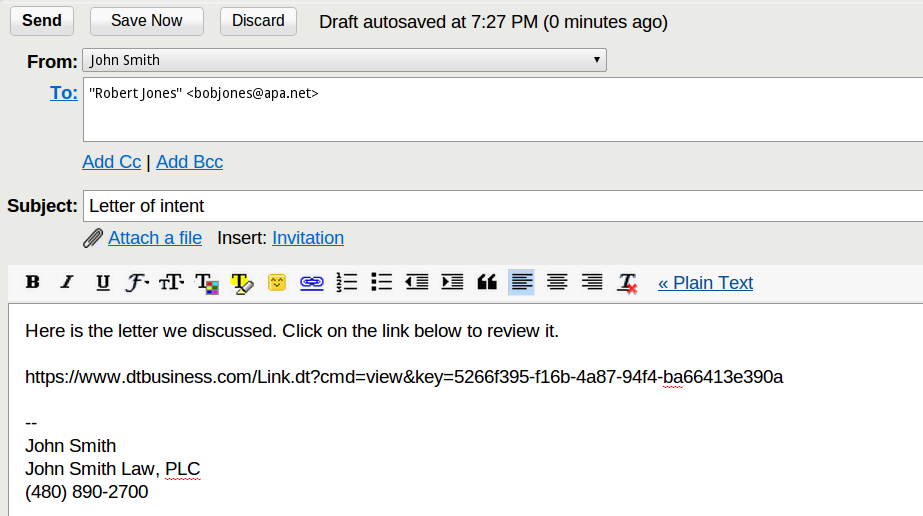 Viewing Statuses Viewing Statuses Summary Summary Summarizing
The LAWS/Pro certified email process, allows you to send email, and ensure that they are delivered. It also allows you to be instantly notified when they were opened, and facilitates the placing of notes, with the specific date and time into the clients file. Whether it is used for security, follow-up, or record keeping, this feature ensures you are connected, and that proper records are kept. You may not need it for all of your messages, but when you do, this feature can be invaluable.