Please Note: This text placed below here is for the express purpose of documentation and indexing.
It is not intended to be used by the viewer.
Viewers should therefore focus on the Flash presentation located at the top of this page.
External Calendar Synchronization External Calendars Introduction Introduction Title Page
This training segment will show you how you can synchronize your LAWS/Pro calendar with an external Google calendar. You Google calendar can then be synchronized with other calendars such as those used on mobile phones. Then, if your out of the office and your administrative assistant enters a new appointment into LAWS/Pro, you will instantly see it appear on your mobile phone. Likewise, if you enter something on your phones calendar, it will be seen on LAWS/Pro at the office.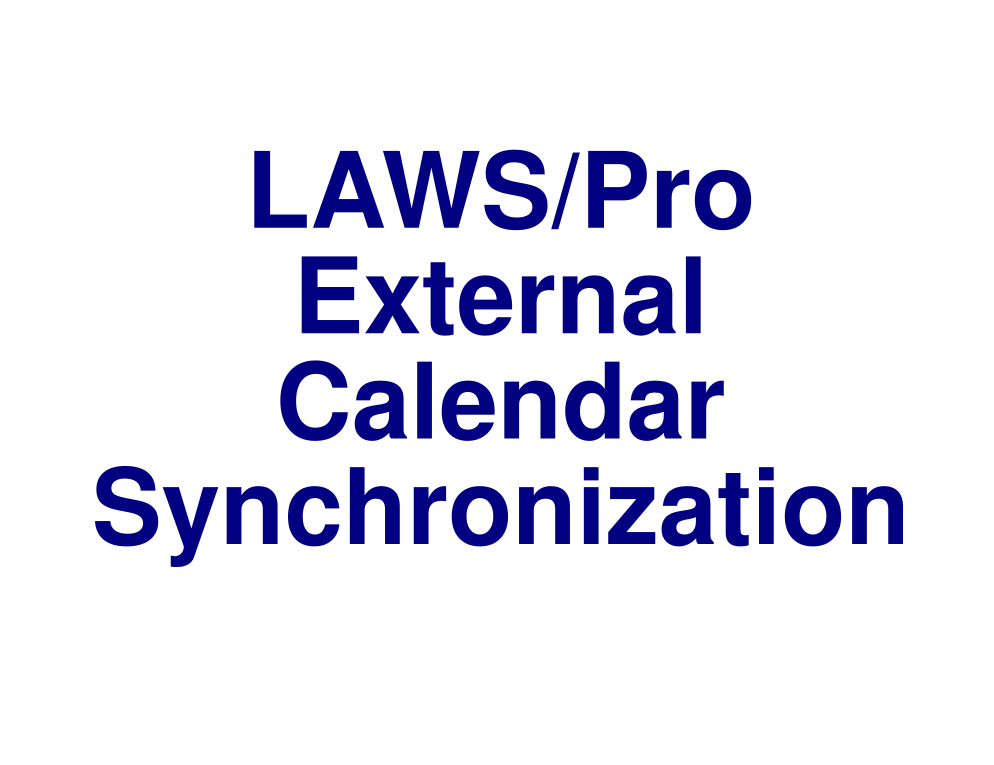 Overview
Your LAWS/Pro calendar can be synchronized with a Google calendar. The Google calendar can then in turn synchronize with other calendars on devices such as the iPhone, Blackberry and Droid mobile phones. Once synchronization is setup in as shown, any calendar entries placed on your LAWS/Pro calendar will automatically be transferred and shown on your phone calendar. Likewise, anything entered on your phone's calendar will be shown in your LAWS/Pro calendar. All changes to calendar entries will be synchronized between LAWS/Pro, Google Calendar and your mobile phone.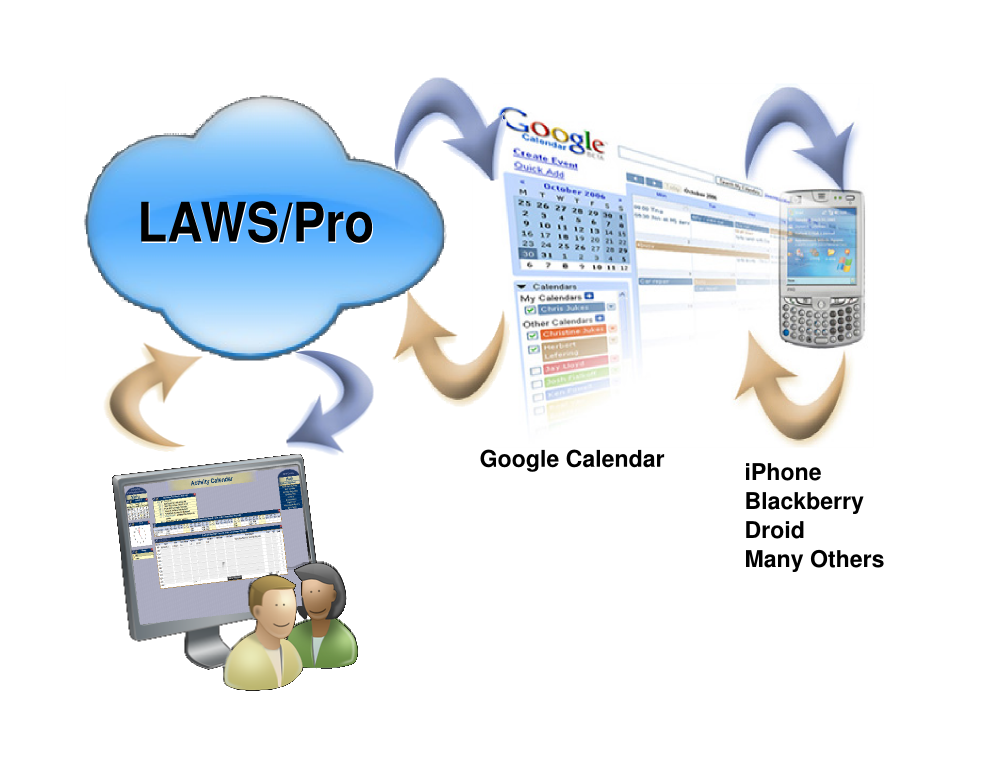 Google Calendar Google Calendar Obtain a GMail account
Google provides a calendar feature as a subset of their Email services. You must have a Google G Mail account to use the calendar features. If you do not already have a G Mail account you can obtain one by going to the mail.google.com website and clicking on the "Create an account" button.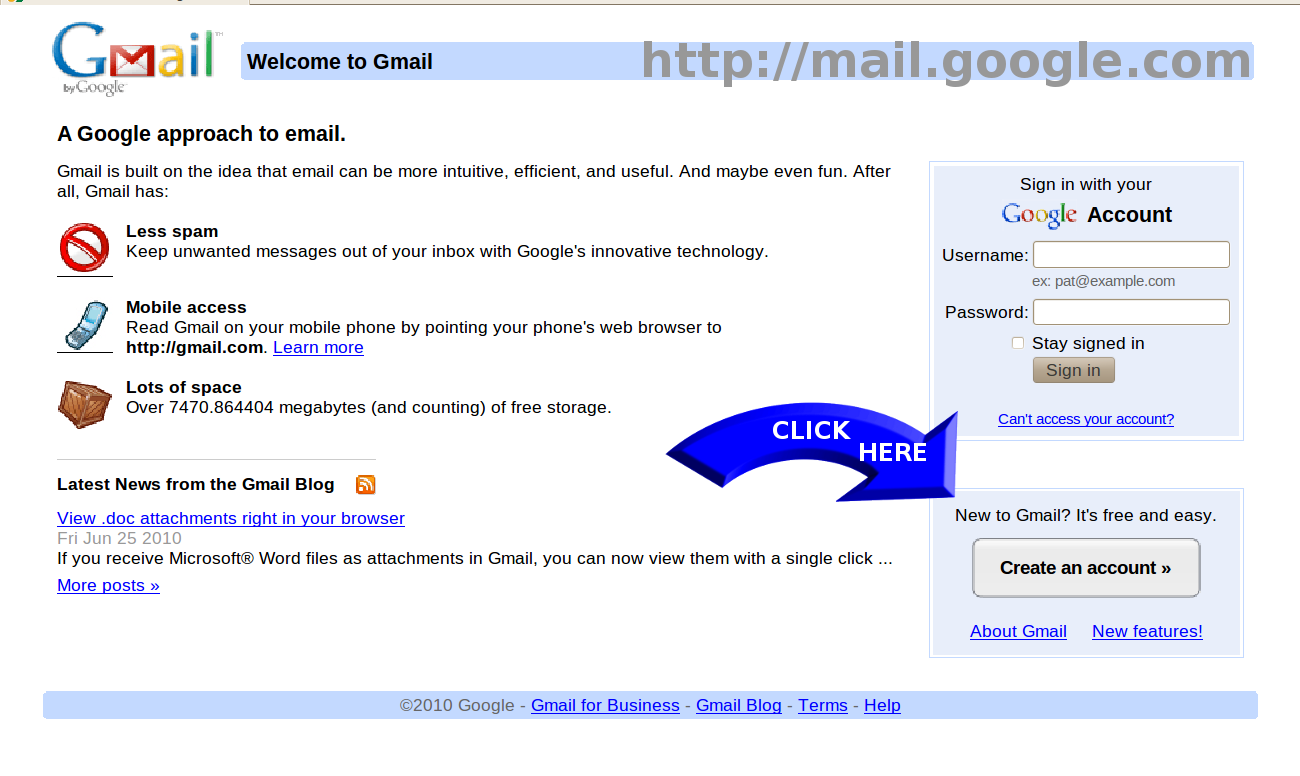 Getting to the GMail Calendar
Once you have a G Mail account, you can click on the Calendar link in the upper left corner of the page to access the Google Calendar.

Personal Preferences Setup Preferences Personal Preferences
To set up your external Calendar in LAWS/Pro, select Set up from the Main Menu. On your Personal Preferences page, you must set up your Time Zone so that calendars can be properly aligned. Click on the My Time Zone field and select the appropriate time zone for your area. Once you have set your time zone click on the "Save Changes" button. Then click on the "Set up View" button to finish setting up your external calendar.
Ext Cal Setup
On the External Calendar Set up page the first thing you need to do is to change the Connection type from None to Google Calendar. Once the Google Calendar is selected, additional fields will be displayed. Next enter your G Mail Login and Password in the spaces provided.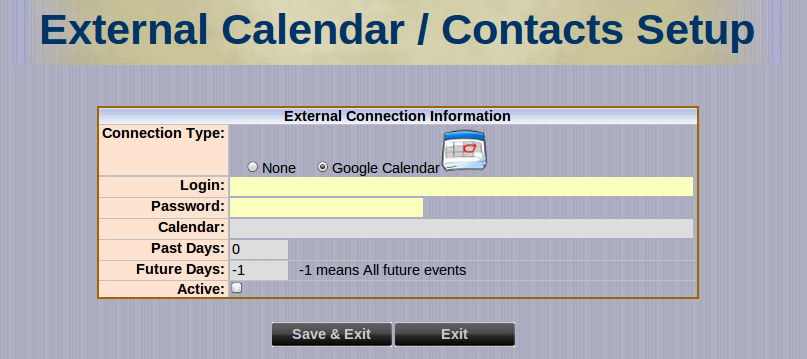 Selecting Calendar
Once your G Mail Login and Password have been validated, you will be presented with a list of available calendars. In most cases you will only have a single calendar available and it will be named the same as your Login. In Google Calendar you can create additional calendars. Although you may have several Google Calendars defined, LAWS/Pro will only synchronize with one of those and that selection is made here.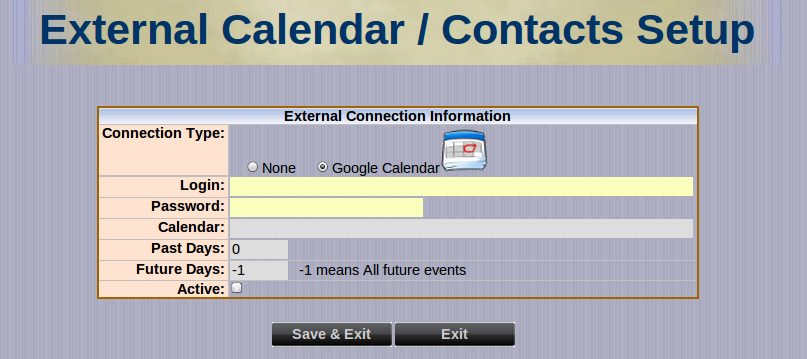 Past and Future Days
The Past and Future days fields can usually be left with their default values. Past days controls how many previous days events will be pushed out to your Google Calendar. This can be changed if you would like scheduled events that happened before today, pushed out and synchronized. By setting the Future days to negative one, all future events will be synchronized.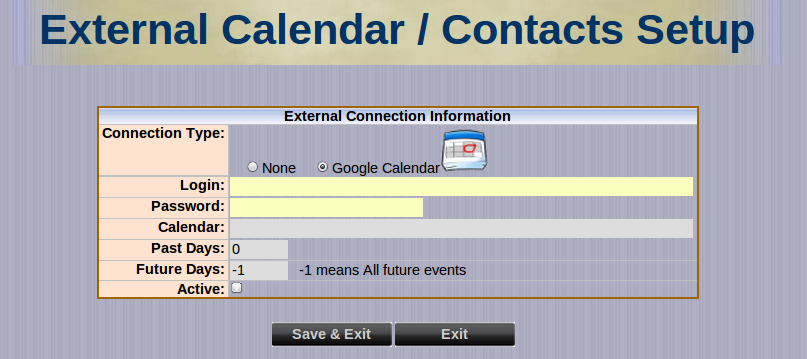 Activating
Once all of this information has been filled in, you can check the "Active" checkbox and then the Save and Exit button. This will activate your external calendar and begin synchronization with LAWS/Pro. This synchronization process occurs in the background and may take several minutes to perform.
This step allows the calendar sync to begin the synchronization process.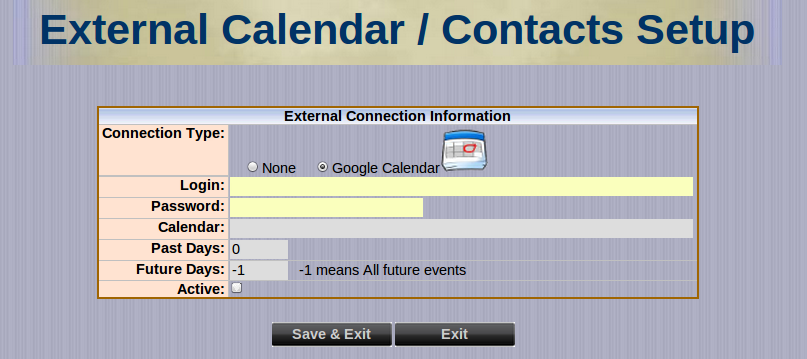 Mobile Device Setup Mobile Setup Setup Mobile
To learn how to setup your specific mobile device, log on to your Google Calendar and then click the "Help" link in the upper right corner of the page. On the help page is a section titled "Access options" and under that section is a link to "Sync". Once that link is selected you will see links which detail how to synchronize your Google Calendar with many specific devices.
The calendar sync process LAWS/Pro provides works with Google Calendar. Google Calendar then in turn will sync with most of the common mobile phones on the market today.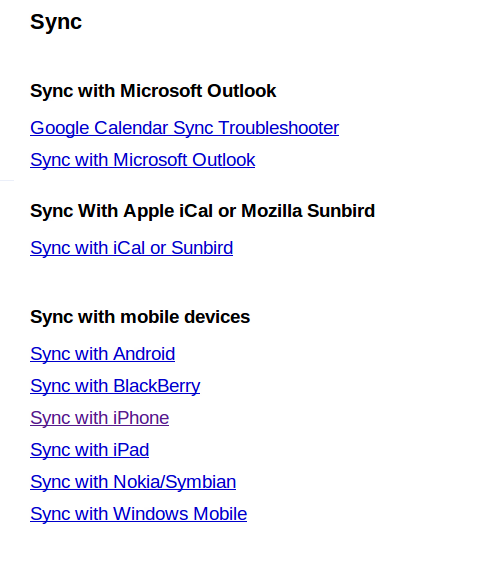 Additional Notes Additional Notes Notes 1
Once your external Calendar is setup and activated, entries entered into LAWS/Pro should appear on your Google Calendar. Likewise, entries entered in on your Google Calendar will appear on your LAWS/Pro calendar. You may want to test this process yourself so you can better understand how it will work. If you have a mobile device, it can be setup to synchronize with your Google Calendar. Only those calendar entries with a specific time of day will be synchronized. Reminder and To do items will not be synchronized.

Notes 2
Items entered into LAWS/Pro will usually appear on your external calendar within a minute. Items entered or changed on your external calendar may take several minutes to be pulled back and show within LAWS/Pro. You can also specify clients and matters on new items entered remotely by entering the client code followed by a period and the matter code followed by a colon and then the item description. If a client has only a single matter then you do not need to specify the matter, it will be filled in automatically. If a matter code is unique within your firm then you do not need to specify the client code, it will be filled in automatically.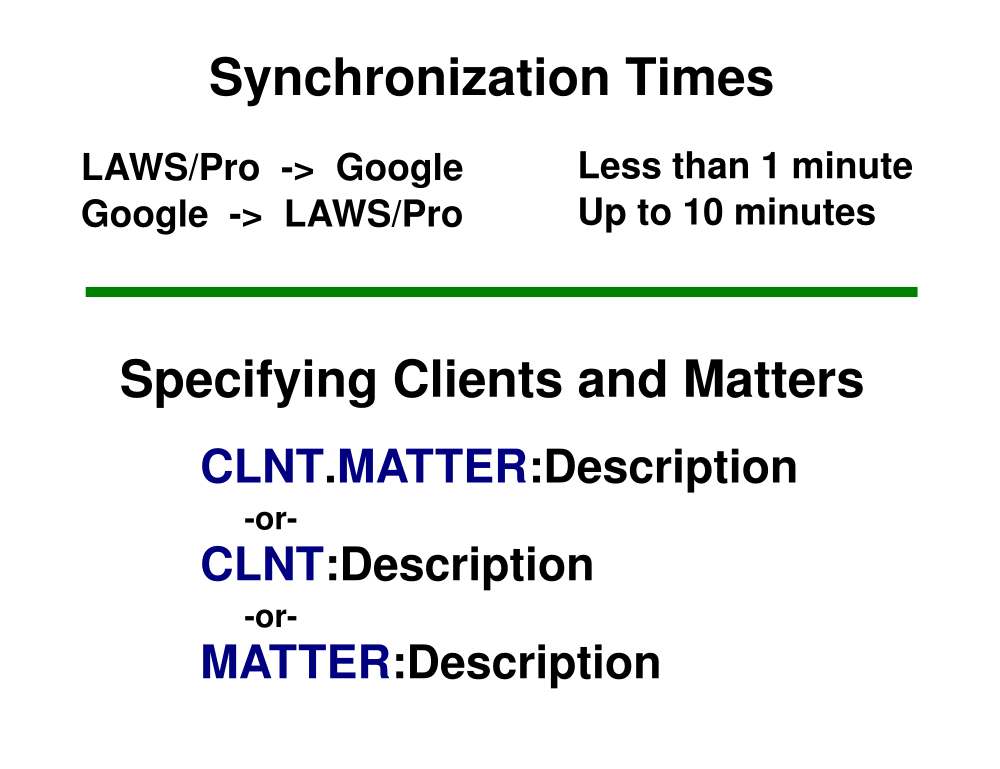 Enjoy
We hope you enjoy using the External Calendar feature in LAWS/Pro. This feature can enable you to keep in sync with your office when you are out of the office. It's just one more way that LAWS/Pro keeps you connected.
From this point forward their calendar sync setup should ensure the ongoing currency of both calendars. In other words it will keep them both in sync.